1 Million Dollar Bill
Does anyone have this sleeve for the 11" Macbook Air? I paid $39.95 for the Incase one from the Apple store and I don't like how tight it is and how you have to slide the Macbook in from the top. Then I saw on Speck's website the Pixelsleeve and it looks really nice. Is it hard to get the MBA in it? What is the inside of the sleeve made out of. Can anyone post some good pictures of it? I can order it off Amazon.com for $22 shipped with a $10 credit I have so I could save $23 if I take the Incase one back. I just wanted to get some impressions of it before I did it. Thanks.
---
Million Dollar Bills King
MacPhreak
Mar 24, 09:48 AM
That's all fine and well, but I just want a version that doesn't require X11 and can print.

It can't print?! I knew it was limited, but really...an office suite that can't print isn't much use, now is it?
---
million bill
I have the odd session of leaping around the living room with the kids on Adventures when I'm feeling energetic. They still play on Kinectimals too and love it. I have to say I'm quite interested in the PC drivers and SDK.

I went into GAME the other day and there really doesn't seem to be much more software available than there was at Xmas.

The Gunstringer (http://www.joystiq.com/2011/02/25/fifteen-minutes-of-the-gunstringers-gunslinging-gameplay/) looks rather good, so that'll be the next Kinect game I buy.

:apple:
---
$1000000 Million Dollar Bills
benhollberg
Mar 18, 06:37 AM
The first people in line got here at 1:00 AM. If your not here now don't plan on coming based on past inventory.
---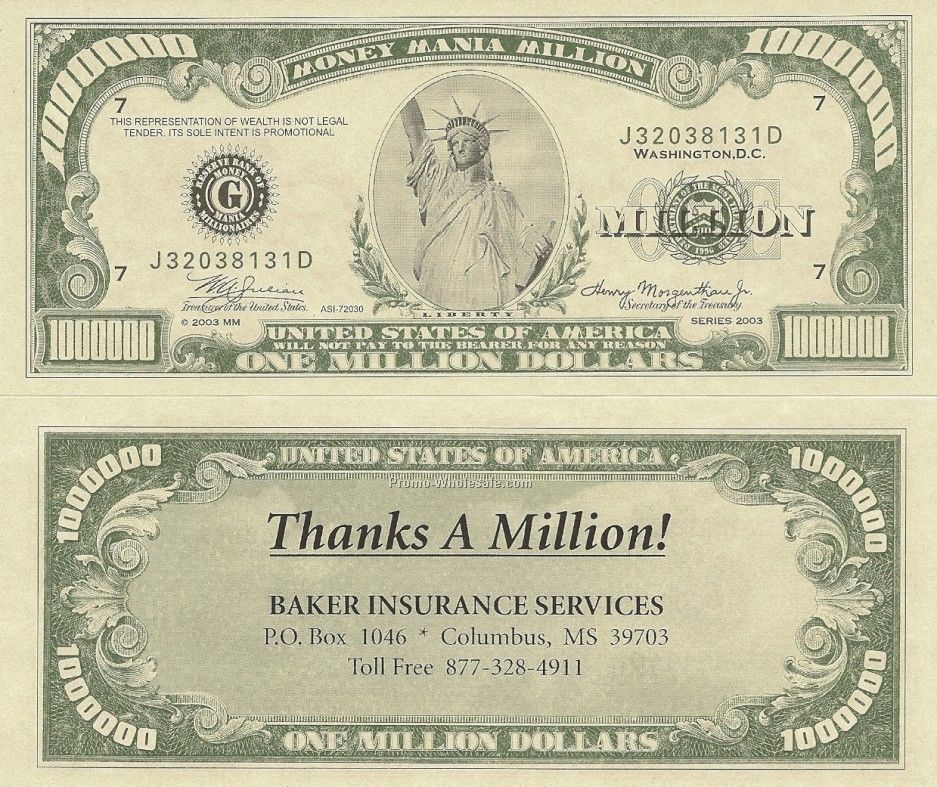 Million Dollar Bill With
mr.jerffrey
Apr 12, 12:49 PM
Yeah I have Imovie.. so you're saying that a folder/drive should appear when the video recorder is connected?

Do you know of any settings that should be place on the computer or in Imovie that is necessary?

Thanks for the input.
---
Barack Obama Million Dollar
Very nice!

There a few things I'd have done differently, and that's probably true for many of us who do this stuff for a living, but I don't think any of it is wrong at all. The HTML and CSS code appear to be logical and reasonably well commented, both of which are admirable.
---
Millennium Million Dollar Bill
thejadedmonkey
Oct 8, 02:48 AM
Why is Arn up at 3am?:confused:
---
of Pop Million Dollar Bill
JollyJoeJoe
Apr 23, 05:01 AM
The card only comes with fan-out cables (SFF-8087 to 4i*SATA/SAS ends; 1x per SFF-8087 port, so in the case of the ARC-1880ix12, it will come with 3x of them).

In theory, you could order the version of the Maxupgrades kit without the MiniSAS cable, but it wouldn't be a bad idea to go ahead and get it (it may be shorter, as those that come with the Areca are 0.5 meters in length). Assuming the cable with the kit is shorter, it won't be as messy as a longer cable could be in terms of routing (those that have used that particular kit haven't mentioned it was a mess that I recall).

You won't need any other cabling to connect the card to the HDD bays (it all comes in the MaxUpgrades kit).

If you want to use an internal port with an external enclosure, there's a special cable you'd need to get for this. If you want to use the external port (keep in mind, this typically shares ports with an internal connector in past models, such as the 1680 series), you'd need to buy one. Either way, these do not come with the card, and you'd only need to get them if you're planning on running an external enclosure/s.

BTW, stick to 1.0 meters or less with SATA disks (1.0 m tends to be the shortest you can get off the shelf, but other lengths are possible via a custom order - I've done this before), and do not use the PCI bracket mount adapters to take internal to external cables (results in instability due to contact resistance - been through this battle before). These adapters are meant to be used with SAS, which runs at a much higher signal voltage (20V) than internal SATA (400mV).



You don't need to use the older version of Firefox. I was referring to Safari in terms of older versions that had been tried and didn't work (not tried Safari 5, but given past revisions, I'd skip even trying it when I know Firefox will work properly).

As per how to do it, a browser works in any OS supported by the card (browser connects via an IP address assigned to the RAID card). Now the firmware is actually in 4 parts (i.e. what you'd get in a firmware download off of Areca's support site). Assuming you don't need to upgrade anything else, you just use EFI to replace BOOT.bin, which is the BIOS version (leave the others alone).

There should be instructions in the manual that comes with the card fif you're a bit confused (it's in the others, so it should be there this go around as well). There's also confirmation check boxes to be marked before any flash is actually performed anyway (nice little safety feature), so you can look around without causing problems.


Thanks, you've really helped out.

One question that does come across though is once I flash the card with EFI and select the SSD as a boot drive from an existing OSX install I will want to install Mac OSX fresh on this now bootable SSD and ditch the default OSX installation on which I chose the SSD as the boot drive. Can I do this? Or must I clone the existing OSX install onto the new SSD drive first?

I was thinking after making the SSD boot drive I could simply boot off the OSX install discs and install OSX on this SSD?

It's going to be a new system with no important data, so I don't care about cloning the existing OSX install which comes on the 1TB HDD with the 8-core 2010 Mac Pro. In fact I am going to pull that drive out altogether.

Perhaps I am complicating things too much here and after flashing the card to EFI, I can just shut down, take out the original 1TB HDD with OSX. Start the PC, launch the Areca EFI RAID BIOS menu with the right key press, put the 2x SSD's in pass through mode and 4x 3TB in RAID5. Afterwards just boot off the OSX cd and it will see the 2x SSD drives and the RAID5 volume and just install OSX on one of the SSD's like I want? Will I have troubles installing Win 7 through bootcamp on the 2nd SSD drive when its running off the Areca in pass through mode ?

Also maybe you know, for installing 2x 6G SSD's in the 2nd 5'25" optical bay I obviously need either the OWC multimount adapter bracket 2.5 to 5.25 or other, but for power do I need a SATA power Y splitter or something to get power to both SSD's ? Both of these will be connected to the Areca in pass through mode, the length of the included miniSAS cable should be fine to reach to the SSD's in the optical bay right ?

Finally the one question that I can't find a definite answer to from anyone is if the X5690 Xeons will work in the 8-core Mac Pro, I know the X5680 do from others on this forum. OWC is offering the X5690 in their CPU upgrade options so I take it works. But maybe they flash/alter the EFI to support the microcode for the X5690 ?
---
Million Dollar Bills King
There's a conversion tool at this site called WMA to MP3 converter which will do the task, but I believe that WinAMP can do this as well, along with WMP9 itselt, I think.
http://www.wma-mp3.com/
---
Million Dollar Bills, million
Its the crapy drivers Apple has crippled an almost perfect laptop for a switcher or multi OS user. There are alternatives right now but they are complex hacks and best avoided in my opinion. I guess we will have to wait for the next rev. There is a new Bootcamp update.. but it does not mention a new Trackpad driver in the release notes.

You mean, an update newer than 3.2? Since I just got the Mac a week ago, the Snow Leopard DVD came with BootCamp 3.2. Are we expecting newer drivers soon?
---

Laminated Million Dollar Bill
mac2thefuture
Feb 12, 12:31 PM
Ok, a couple of good pm's received so far...I've got to go to the gym now, i'll assess later
---
One Million Dollar Bills
Steve said in the CNBC interview post-keynote:
(loosely quoted) "I serve at the pleasure of the board of directors and the stockholders, and as long as they are happy with the job I'm doing, I'd love to keep doing this job."

To me, that doesn't sound like he's going anywhere anytime soon.
---
Free million dollar bill
All I really need is the ability to tag a photo using Google Maps/Earth. It would be nice to have it tagged when I take it, but if I'm able to use an integrated iphoto/google maps to tag photos, and then be able to integrate the photos into google maps/earth, that's good enough for me.
---
ones) million dollar bill.
Hackint0sh814
Apr 27, 07:54 PM
Where is Geohot? Thats what we need.

+1 He's going to need something to fill his time now right? Might as well be hacking Apple products now.
---
$1000000 dollar bill
Interesting little write up from yesterday:

"Spirit and JailbreakMe Creator Says Apple May Have Infiltrated The Dev Team" (http://www.cultofmac.com/spirit-and-jailbreakme-creator-says-apple-may-have-infiltrated-the-dev-team/88495)


This makes me sad. :mad:
---
Million Dollar Bills King
ViciousShadow21
Nov 12, 01:19 PM
sure, here you are...

danke
---
Blank Million Dollar Bill
Whta's your favourite plug-in, what app do you use it, and whaat does it do?
Please only post plug ins for creative apps, e.g Final Cut, Photoshop, After Effects......

My favourite is for Final Cut and is DV Matte 1.5
---
million dollar bill »
williamnova
Mar 11, 06:20 AM
Thanks. I was was confused by the number of postings on the internet I saw which kept referring to folks saying they're using launchd now since "there is no xinetd in SL anymore" and so on. I assumed that meant it had been taken out entirely and replaced with launchd.

I'm still not entirely sure the PDF isn't wrong, though. It mentions FTP and Finger specifically as two services that use xinetd, which means they should have entries in /etc/xinetd.conf and/or /etc/xinetd.d/<service>, right? Only my 10.6 workstation has nothing like that. I do, however, have .plist files for both of those in System/Library/LaunchDaemons/ - unless the server is using xinetd while my desktop is using launchd, but that doesn't seem right. :confused:
---
uncut Million Dollar Bills
Well there aren't really many other stores on the high street that have entire glass fronts. Most of them have roller shutters, at least where I am. Maybe that's something they might have to introduce. Bit ugly but will discourage robberies!
---
I am looking for a really good monitor for my 2010 Mini for use with Web Browsing and some games, as my trusty ol' Gateway finally died.

I am looking in the 22-24" area and do not want to spend more than say $350.00

Should I go LED or Not?

Need to be able to display MAX Resolution Mini can handle.
---
I never had OS9, but I think I heard some of this sound in other places.

In example, the "Quack" one sound me so familiar..., maybe there is a similar sound in Win 95 / 98?
---
Oooh, what fun. I can't wait until Leopard comes out. Here's to hoping it comes out January.
---
ARC-1880LP
http://eshop.macsales.com/item/Areca/ARC1880LP/
You don't need to worry about Low Profile versions for the Mac Pro, so others are viable options (say the ARC-1880i all the way to the ARC-1880ix24).
ATTO Technologies is another company to look into (both offer 6Gb/s, bootable in BIOS and EFI based systems, work in multiple OS's, and have additional features not found on other cards). But ATTO's products are more expensive (good if you're new to hardware RAID controllers, as they're located in New York State so the Support Staff speak English natively), and on some models, Areca has an advantage (namely those that use a DIMM slot for the cache - none of ATTO's products do).
Areca's support staff do speak English (phone or email), but it's a 2nd language (based in Taiwan). So deciphering their response can be challenging at times.
Or is there more sata/power connectors there or can I buy/connect more?
The 2009/10 systems use a single backplane connector per ODD bay, so you'd need to use a Y splitter off of that (example (http://www.monoprice.com/products/product.asp?c_id=102&cp_id=10226&cs_id=1022604&p_id=5184&seq=1&format=2) if you don't need to retain the data signal off of the ODD backplane connector).
If you do need to retain the data connection, there's a way to do that too, but it will take a bit of effort on your part (means getting a couple of off the shelf cables and splicing the power wires together <backplane extension cable (http://industrialcomponent.com/oem/sataext12.html) + SATA Y splitter>; no mods to the system, so your warranty will remain in tact :)).
With this card I can connect both the 4x 3TB HDD RAID5 volume and 2x 6G SSD (non-raid) to it at same time.
Yes.
You can run multiple arrays or arrays + single disks via Pass Through mode. You cannot run a JBOD (concatenation) + RAID simultaneously though (must select between RAID or JBOD mode).
Also does it get messy cable wise when you don't use the apple raid card and run the SAS expanders to the drives? How did you go about flashing the card to EFI firmware ?
SAS expanders are easy cable wise (and no different between any computer for the same configuration and equipment).
All of Areca's settings, including flashing the firmware, are done via a web browser (BTW, Safari tends to fail for this, so use another browser, such as Firefox).
If you chose an ATTO product, it installs it's own interface application.
Which other 6G RAID cards can you recommend that I can connect 4x HDD in RAID5 and 2x 6G SSD's (non-raid) to, if there's a good one that takes advantage of internal drive channels it would be a plus.
The only card that can use PCB traces with the HDD bays, is the Apple RAID Pro.
All 3rd party cards require an adapter, which you've found (maxupgrades.com adapter kit you located).
Care to post the instructions or link to the thread with details on flashing the Areca card that NANOFROG gave you?
See above.
The EFI firmware (EBC actually), can be found on the disk provided with the card, or on the support site (you will have to dig a bit, but it's there). Then install it via a browser (use Firefox, as there's been too many instances where Safari has failed - including multiple versions of it).
How many RAID volumes can you configure using the one Areca controller using the internal ports? I am guessing all drives that connect using the ( MiniSAS- SATA 4x multiplier). So for two internal 6G ports on the RAID controller (8 drives in any number of RAID configs). I want to run a 4x HDD RAID5 and 2x SSD's in non raid off the one controller. Maybe even go for the 1880-ix with external RAID support for a 3rd external RAID1 volume, all of the same controller. Wondering how much RAM I will need in this case, would 512MB default be enough you think?
The # of volumes = however many you want (all of the 1880 series can actually run 128 disks via SAS expanders). You can do this via an internal to external cable (http://www.pc-pitstop.com/sas_cables_adapters/8887-1M.asp) (stick to 1.0 meter with SATA disks, or it won't be stable). Or just use these cables for a 1:1 port to disk ratio if you wish in an external SAS enclosure.
Not sure if you're asking, but you're not stuck to even numbers once you exceed the minimum disk count (i.e. minimum for RAID 5 = 3 members).
512MB would be enough, as you're not using that many disks (only functional during writes, not reads). More can improve your write throughputs, but I'm not sure of your file sizes, or if you'll be adding more disks (via expanders or in a 1:1 ratio).
You could do without the RAID-card altogether and just install 4 drives in the bays in the Mac Pro and use the ZFS filesystem (http://code.google.com/p/maczfs/) to make a dynamic stripe in RAID-Z, so you will get RAID-5 like performance but with better protection and data integrity.
RAID-5 is prone to something called the "RAID-5 write hole" in case of a power outage, something RAID-Z specifically is designed to handle.
Just listing this as another option.
For software implementations of parity arrays, you're absolutely right. RAID 5 wouldn't be the way to go. But a hardware RAID controller has a hardware solution to the problem. :)
Funny thing, as I am running ZFS as we speak on my Mac Pro and several servers.
If you clicked the link I provided you could even download it and install it in Mac OS X ;)
Also ZFS is returning big time for Mac OS X come June/July with a full up-to-date implementation of ZFS, called ZFS-410 by Ten's Complement LLC (http://tenscomplement.com/).
Ironically, one of the engineers behind ZFS-410 was the technical lead behind the original HFS+ filesystem and one of the persons porting ZFS to Mac OS X until Apple ditched it. You can find a good read about it here (http://arstechnica.com/apple/news/2011/03/how-zfs-is-slowly-making-its-way-to-mac-os-x.ars)
Interesting.
toke lahti
Jan 23, 03:50 AM
DisplayPort is really coming:
http://www.engadget.com/2007/12/06/ati-displayport-cards-trickle-out/
http://www.engadget.com/2007/12/26/upcoming-amd-radeon-hd-3450-3470-and-3650-low-enders-leaked/
Problem might be how many years it takes Apple to start using it...
---